Have you ever had to convert all your files individually during the printing process? If so, you probably already know how time-consuming that is. With the Hotfolder you can use your precious time more efficiently.
The Hotfolder allows you to create special folders where you can customize your prints and perform color management. By being able to use them multiple times, you manage to put aside the constant individual print settings, which not only makes your printing process easier, but also saves an incredible amount of time. So as soon as a file is copied into the hotfolder, the Productionserver automatically starts the processing process and the file is processed according to the defined settings. In a way, the hot folder serves as a template that automatically passes on its properties to the jobs. The advantage of this is that when jobs are automatically loaded via a hotfolder, the properties of the hotfolder apply to all newly added jobs.
You even have the option to set up multiple hotfolders with different settings. This is helpful if you have different jobs with different settings.
How to Use Hotfolders

The hotfolder settings can be found under Printer > Properties > select the preferred printer...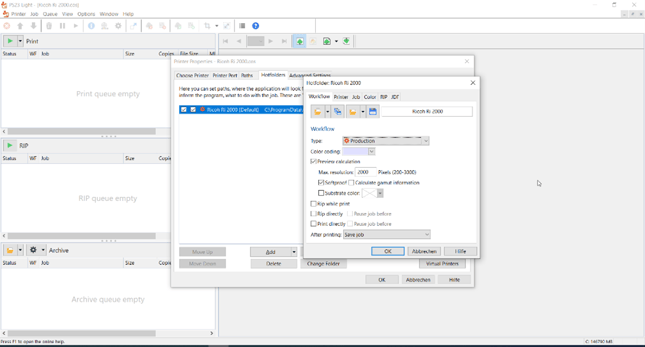 In order to use the Hotfolder, the original printer driver of your printer must be installed and the corresponding printer must be set up in the RIP software.
In summary, ColorGATE's Hotfolder offers a simple option to automate your printing processes. This will save you time in your production processes and allow you to work more efficiently and profitably.

You can then monitor and manage the progress of print jobs in the UI.
… and you are already done!
We hope you enjoyed this article and learned something new from it. If we can help you with any other questions, feel free to contact us here!