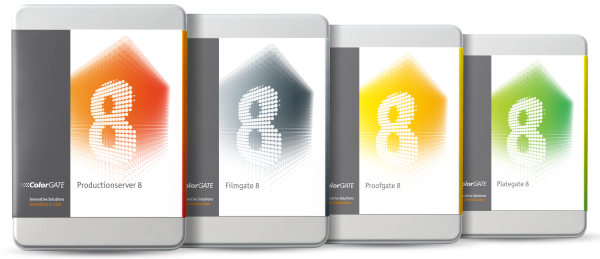 Version 8.01 is available on our website! It contains a new screening method (Custom Screen) which replaces the PostScript screening. Furthermore several drivers and bugfixes could be implemented.
You can download the updates and setups from our Download area for Productionserver 8, Proofgate 8, Filmgate 8 and Plategate 8.
The changes from 8.00 Build 5058 are listed here:
New Printers
For Productionserver
Epson:
Epson SureColor SC-F2000 SE (Cat 1)
Epson SureColor SC-F2000 WE (Cat 1)
Grapo:
Grapo Manta White – KM1024 (Cat 3)
Grapo Octopus II White – KM1024 (Cat 3)
……………………………………………………….
GongZheng ThunderJet T3202S (Cat 3)
HP Scitex FB10000 (Cat 3)
Roland SP-300i (Cat 1)
Stela S 4260 (Cat 1)
Vutek HS100-Pro (Cat 3)
The complete driver list can be found on our website.
News and Modifications
New screen type — Custom Screen
Version 8.01 comes with a new screen type replacing the PostScript screening: Custom Screen. The new Adobe Print Engine (APPE), introduced in version 8 upgrade, does not support the PostScript screening anymore. Therefore, this new screen Custom Screen has been developed and will now be offered for Screen Workflow (e.g. Productionserver with Filmgate Module FGM or the stand-alone Filmgate product).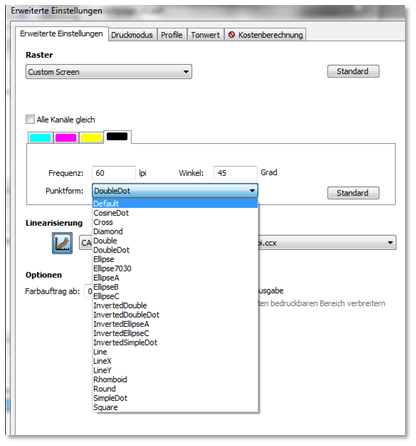 The following table lists all available dot shapes that derivate from the JAWS-established PostScript screen:
The option Accurate Screens will not be offered with the new Custom Screen anymore.
General
Bugfixes
The media preview was not accessible when the Print&Cut module was not available.
Cropping did not work correctly if Anti Aliasing was activated on the RIP tab.
The installer did not work properly on Korean operating systems.
In containers the cut marks of tiled jobs were placed using the original dimensions instead of the tiles' edges.
Ink Splitting presets were missing for the CMYKLCLMLKMKOG color mode.
PDF Annotations were not processed correctly.
Changes to a copied and then released job were not reflected in a flipside container, if the changes have been applied before flipping the container.
In proof workflow, when working with RGB printers, jobs with Lab spot replacements and the option print spot color in maximum printer gamut got ripped wrongly.
Multipage PDFs in a container with a smaller sheet size that was edited subsequently did not work correctly.
The Spread&Choke function did not work correctly for image areas with complete White printing.
Changes
Better support for file names with special characters that are part of the system's code page, e.g. for Korean.
An incorrect help topic was shown when it was opened from the media/ink price list of the Cost Calculation.
A message about modifying print mode settings for a new MIM has been changed.
APPE: Any font which was not embedded was treated as "missing fonts". Now only fonts which are neither embedded nor shipped in Appe\ACRFonts are considered "missing fonts".
New simulation profiles GRACol2013_CRPC6.icc, GRACol2013UNC_CRPC3.icc and SWOP2013_CRPC5.icc, SWOP2013C5.icc have been added for the proof workflow. They will be available in the program advanced color management settings tab Profiles within the Printing Condition / Simulation Profiles drop down.
File Processing
In PS/PDF files with 129 pages or more, some of the pages got wrong color managed.
Transparencies in PDFs have been improved for not selecting an output profile.
Printer Related
General
Flatbed printers with roll media option: Using the User Defined Media option resetted the media size to the default printer bed height.
Bugfixes
Acuity printers:
The Fujifilm product code was added to the names of the Acuity line of printers
Epson 4900 Non HTM:
Both the print modes "360 x 360" and "720 x 360" have been removed. They were not usable in practice because of their slow speed.
Epson SC-S70600:
DeviceSpot replacements in RGB mode were wrong with some files.
Epson SureColor SC-T5000/7000 HTM & Screen:
The second maintenance tank was not shown on the printer status monitor.
Lynx 320PQ:
Sometimes error code -22 was shown when printing because of a timeout.
Mimaki UJF6042HG:
The layering dialog did not offer all available variations for CMYK with Double White and CMYKLCLM ink sets.
Ricoh Pro L4000:
The printer name has changed to Ricoh Pro L4100 Series.
Media feed correction now allows values between -9998 and +9999. When -9999 is entered, the panel settings are used.
The driver used wrong and/or outdated droplet sizes.
Roland VS300i:
Black ink was printed instead of white ink.
Roland VS-640i:
The Printer Monitor was not working.
Improvements / Changes
Inca Onset Q40i:
When only a white layer is to be output, it is now always put into the middle layer.
Mimaki JFX-500:
Special ink support was revised.
An additional ink set has been added.
The range of the UV lamp power has been scaled down from 213 to 167.
Mimaki UJF6042:
The 1800×1800 resolution was added.
Vutek GS 2000 PRO:
The color mode CMYKLCLMLYLK was added.
The complete printer driver list can be found here.
Linearization and Profiling Assistant
Improvements
The order of Orange and Green patches has been changed in the CMYKOG Chart Page no. 4.
A new black generation mode called MaxK was added to the profile generation options.
Bugfixes
Certain CXF files created in XRite products could not be imported.
Print and Cut Module PCM
Print&Cut on Hybrid devices: When the cut line was located on the bottom edge of the crop box of PDF files, it was sometimes not cut.
More information on version 8 can be found on our website: www.colorgate.com